Start a Return with Forms by Mesa
Mesa allows you to create Forms that can be hosted within your Shopify store to collect customer data. In this example, Mesa Forms allows customers to easily initiate an order return. The full order details as well as the Reason for Return will be included in the email to your back office. This automation can even be extended to automatically generate a return label that is sent to the customer.
Follow the steps below to set this up for your store:
1. Set up your Mesa Form
This step is used when you want to create a form for your customers to submit. The Success Redirect URL field will allow you to redirect customers to a specific link, or to embedded pages on your Shopify store.
You can build a form from scratch, or copy the HTML code from our Form Builder, modify it, and use it on any page on the web. More details can be found on Mesa Forms here: Details
Next, paste the Form code into a page on your store which requires the customer to be logged in and also has order details. This will allow the Form code to capture the Customer ID and Order ID as hidden form fields. You can click here for details on how to add the Form onto your Customer Order Page.
2. The next step will be Shopify Retrieve Order. Your store's credentials should already be populated and Shopify App Configuration populated with the correct token.
3. You'll need to add your Existing Credentials from the drop-down menu and also assign which spreadsheet you'd like to populate in the Google Sheets Add Row step.
Within this step, you will see where the Return Order form is mapping to on your Google Sheet:
4. You also have the option to use Mesa to notify your customers through Mesa's premium built-in app, Email by Mesa.
In this step, the recipient's email address from Shopify is retrieved with their order name. The body of the email can be customized to fit your store's needs and tailored to your customers.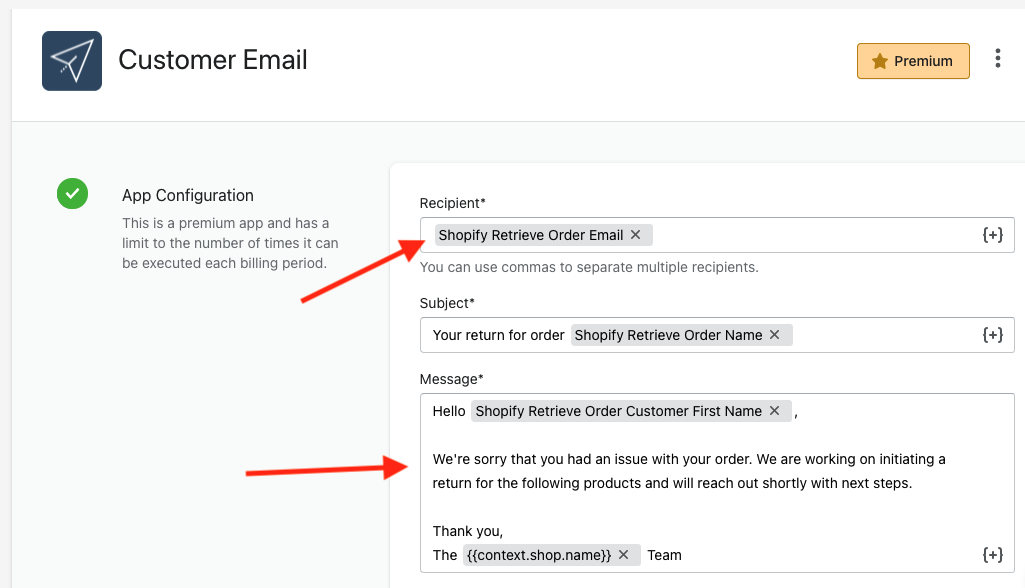 5. If your team uses Slack, you can automatically connect to your Slack to share the return information with your team.
For this step, you will need to add a new Slack App and then create an incoming webhook URL. You'll then need to copy the webhook URL from your Slack app and paste it back into the Slack step in the Mesa workflow. Click the green Add Credential button.
6. Once the set up is complete, you can hit save on the upper right hand corner.
7. Finally, enable the workflow in the workflow's settings. Feel free to complete some of the best practices for Mesa.
Now, you're all set! 🎉